cyvy
28 October 2020
Event
WissenschaftlerInnen diskutieren mit den MacherInnen den SWR Near-Future-Thriller
Eine Kooperationsveranstaltung von MINTEEE und der Cyber Valley Initiative mit Unterstützung des SWR Digitales ewiges Leben – das verspricht die Künstliche Intelligenz INFINITALK im SWR-Science-Fiction-Thriller "Exit". Sie kann nicht nur Aussehen, Sprache und Stimme eines Menschen digitalisieren, sondern auch Wesen, Geist, Humor. Wird die Erschaffung solcher lebensechten digitalen Avatare tatsächlich einmal möglich sein? Was kann KI heute wirklich? Was wird sie womöglich einmal können? Wir machen den Check.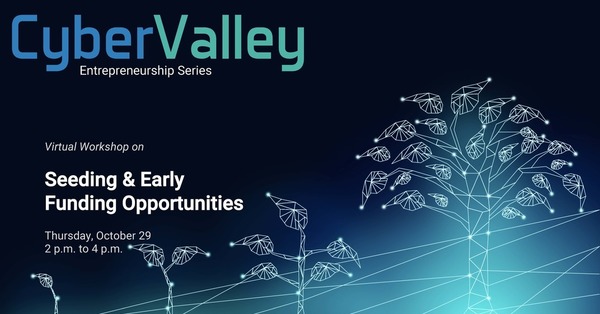 cyvy
29 October 2020 - 29 October 2020
Workshop
virtual Event
Entrepreneurship Series
If you have a business idea but you are unsure which financing possibilities are available in this early phase, this event will help you gain insight, meet contacts from funding programs, and exchange experiences with other people who are interested in founding a company.
Funding Pre-Seed